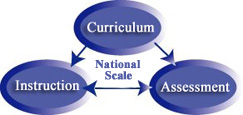 The CASAS Beyond Implementation Training builds on the CASAS Implementation Training to give additional tools and resources recommended to administer CASAS tests, interpret test results, and use curriculum support materials to enhance instruction. Participants may want to incorporate some of these tools and resources into existing assessment plans to maximize instruction. Each unit offers a Self-Test to confirm understanding. A certificate of completion is generated at the conclusion of this training.
Expand Your Knowledge:
Review the basics of CASAS implementation

Explore additional resources and tools
Audience: This training is appropriate for those who have experience with CASAS assessments and implementation.
Pre-Requisite: CASAS Implementation Training must be completed prior to participating in this training.
Cost: Complimentary
Time Commitment: Allow approximately two to three hours to complete.
Enrollment Duration: Participants have 30 days from the time when first accessing the training to completing the training.
Technical Requirements: This training is supported in Microsoft Windows Internet Explorer and Mozilla Firefox Web browsers.
Questions about this training? Contact CASAS at 1-800-255-1036, or send an e-mail to training@casas.org.
Note: Completion of this training meets the California Department of Education (CDE) annual recertification requirement for CASAS Implementation. Please check with your State Department of Education (DOE) for CASAS Implementation recertification requirements.
IMPORTANT! Before you enroll in this training -
Please add onlinereg@casas.org and noreply@training.casas.org as contacts in your e-mail program.
If you do not receive your e-mail confirmation of registration within 1 business day, please check your "spam" or "junk" folder.
Your confirmation e-mail will include steps to access online training.